Our shop is once again open to the public, we look forward to seeing you soon.  A member of staff will locate and provide any stock items that are of interest to you.  Footwear can be tried on but we ask you bring your own socks.  Hand sanitiser is available for all visitors.  We kindly request all customers wear a face covering/mask whilst instore.  Please understand that all stock handled by customers has to be quarantined for 72 hours to reduce the risk of transmission.  Our changing room will remain closed until further notice, however we are happy for you to try on clothing during your visit to our shop.  Thank you for your understanding.
We know many of our customers will search our website prior to making a shop visit and we further encourage this.
If you visit our shop we will do our very best to serve you and to meet your individual requirements to the high standards that we always strive to maintain.  Customer service is the cornerstone of our long established business.
Finally we would like to thank our customers for your continued support and your kind understanding during these challenging times for everyone.  Take care and please stay safe – John Slack.
Contact us by telephone: 01623 624449
We appreciate some of our customers will make long journeys to come and visit.  We advise if you are making such a journey to book an appointment with us by telephoning the shop.  We will then be able to check our stocks and reserve items for you, confirm shop opening times and provide you with any additional information.
By visiting our shop you will be able to try in person our stock and take advantage of our product knowledge.  In stock products displayed on our website are also available to purchase at out Mansfield shop.
Car parking is available at the nearby Rosemary Centre which is just 100m from our shop. Free on street parking is available on Layton Avenue which is directly opposite our shop.  Mansfield's bus station and railway station are just a 2 minute walk away.  We look forward to meeting you and assisting you with your outdoor adventures.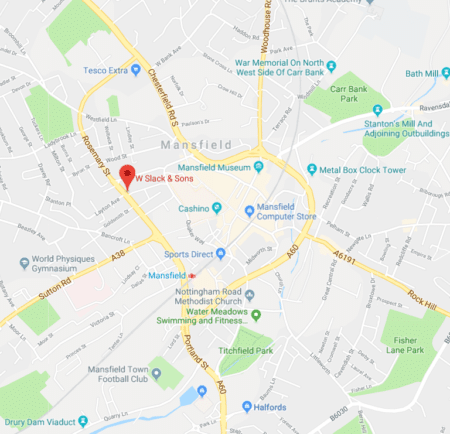 Opening Hours
| | |
| --- | --- |
| Monday | 10.00 to 3.00 |
| Tuesday | 10.00 to 3.00 |
| Wednesday | 10.00 to 2.00 |
| Thursday | 10.00 to 3.00 |
| Friday | 10.00 to 3.00 |
| Saturday | 10.00 to 3.00 |
| Sunday | CLOSED |
Appointments are possible outside of our regular opening times, please contact us and we will try to arrange this for you 01623 62449.
W Slack and Sons, 38 Rosemary Street, Mansfield, Nottinghamshire, NG18 1QL